Iron Bed Colour Guide
Buying a new bed is often a big deal for some, do you they choose upholstered, wooden, ottoman,  iron or brass beds?


Here at Wrought Iron & Brass Bed Co, we always advise our customers to choose a bed that is a guaranteed to last them a lifetime and provide them with a perfect night sleep for many years to come. However, when people think of iron beds, metal beds or anything of the kind they often think of a creaky black metal bed which doesn't truly express their personality and interior design skills. We are here to set the record straight and prove that an iron bed can be a beautiful focal point of any bedroom, hotel room or B&B.
Iron Bed Colours
Ivory, Cream & Black
Our beautiful iron beds come in three standard colours ivory, cream and black (at no extra cost). These particular colours mean that you change up your bedroom colour scheme as many times as you want, if you have a particular bedroom decor for the Winter and Summer periods – these colours might be the better option for you.
Decor Tips:
Ivory beds look beautiful when the room is dressed in beige, light blues and even golds. You can dress your ivory bed up in a variety of duvet colours to add that extra spruce of elegance to the room.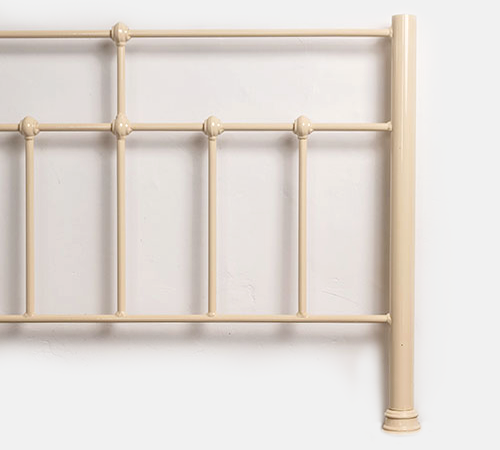 Decor Tips:
Cream beds are similar to white, in which any colours goes. You can go extremely dark with navy and purple tones, or you can opt for a more floral design.
Decor Tips:
Black beds are perfectly matched to a blue bedroom decor. The black frame highlights the blue tones and really stands out to create one beautiful focal point.
Upgrade to
Midnight Blue, Mint Green, Powder Blue, Raw Metal or Yellow
If you are wanting a bit more colour and life to your bedroom, why not upgrade to one of our amazing colours. Our iron bed colours include midnight blue, mint green, powder blue, raw metal or yellow. All of which go from clean and crisp ivory, to a bold yet refreshing colour. With these particular colours you can choose to keep your bedroom plain or introduce a variety of colours for that shabby chic decor.
Midnight Blue – £85 Extra
Decor Tips:
Since you are making a statement with the bed itself, white duvet covers and curtains are the best match, then you can introduce further midnight blue tones with your soft furnishings such as throws and cushions.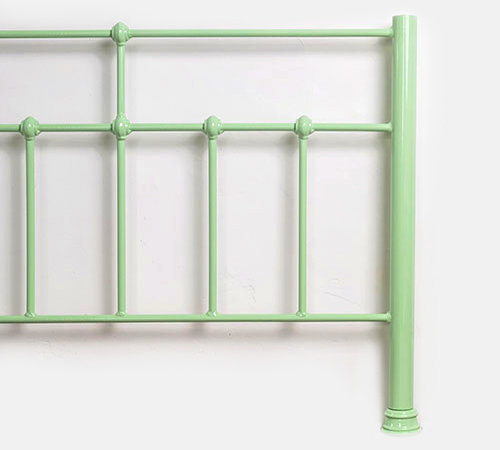 Decor Tips:
Again, mint green is a bold choice for a bed frame but this particular colour opens up that floral and shabby chic tone which can look great when introducing various soft colours around the room.
Decor Tips:
Powder blue is such a soft unique colour which is extremely relaxing for a bedroom. With this colour, you should be choosing soft, ivory tones to keep the zen theme throughout.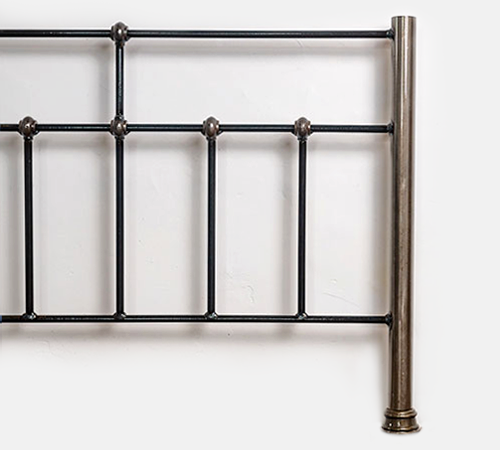 Decor Tips:
Raw metal beds are perfect if you are trying to achieve that boathouse, industrial theme. Dark woods and navy tones look beautiful against this raw metal bed.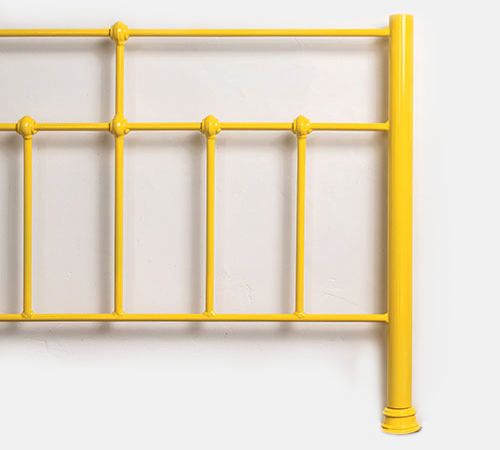 Decor Tips:
If you are a lover of all things Summer, then opt for this beautiful yellow colour. All year round, your bedroom can be full of joy. Opt for white floral soft furnishings or blue to truly make that bold statement.
Upgrade to
Bronze or Pearl Black
If you are looking to create a more chic looking bedroom, why not opt for our bronze or pearl black upgrade. Our bronze and pearl black choices feature deep metallic hues which can bring a luxurious twist to a classic yet elegant iron bed frame.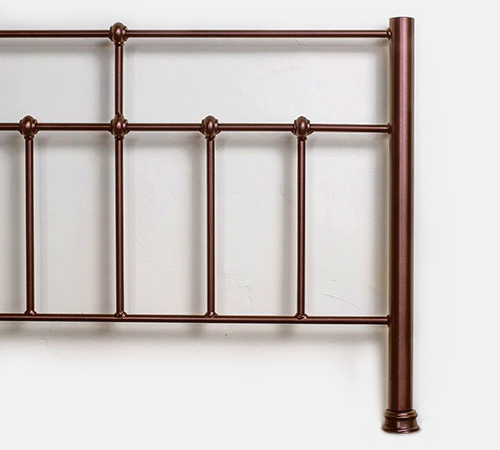 Decor Tips:
Bronze beds are perfectly placed in neutral bedrooms or dark industrial bedrooms. You can opt for ivory or light grey tones or go all out with dark navy and wood effect walls.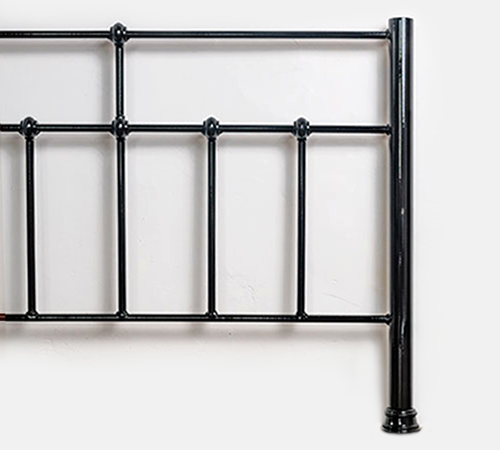 Decor Tips:
Pearl black beds are the epitome of luxury, the metallic shine can really turn your bedroom into a place of elegance and class. Pearl black beds can be teamed up with pretty much any block colour but might look a bit off against soft tones.