Iron Bed Sizes
Four Foot/Small Double
4ft x 6ft 3"
Wrought iron beds add a touch of timeless elegance to any bedroom. But how much do you know about the different sizes and types of iron beds?
‍
Finding the correct size bed is important to ensure it fits the available space, your mattress/bedding size and your sleeping requirements. Since choosing the perfect iron bed for you can be something of a maze, we decided to put together this post detailing the different iron bed sizes and styles available: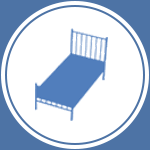 Single iron beds
‍small but mighty!
They might be the smallest in our range, but single iron beds have a power all of their own. Measuring 3'0″ x 6'3″, this design is ideal for giving even small rooms a touch of glamour. Compact yet spacious, they are the perfect bed for young children right throughout their adolescence. After all, most of us treasure those memories of lazy Sunday mornings in our first beds for the rest of our lives, and a wrought iron bed makes that doubly special!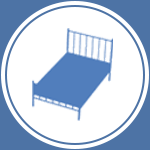 Small double iron beds

spacious yet cosy!
For guest rooms, rooms that have lots of furniture or are slightly on the small side, the small double iron bed is an excellent compromise. Measuring 4'0″ x 6'3″, it provides an extra foot of space compared to the single, but still provides a cosy sleeping experience. It's most suited to teens, young adults or single people who find a double just too big.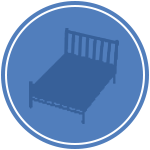 Double iron beds

The Perfect Fit
What can we say? The double iron bed is a timeless classic offering optimum levels of comfort and space for a sound night's sleep. Measuring 4'6″ x 6'3″, this design suits single adults and couples alike and is a versatile choice for guest rooms and hotel rooms. For apartment living or those with limited room, a double bed adapts to most spaces and layouts.
Kingsize iron beds

Room To Relax
For those who are ready to take things up a notch, the kingsize iron bed is a roomy upgrade on the classic double without being overwhelming. Measuring 5'0″ x 6'6″, it offers plenty of space to get a comfortable night's sleep without being woken by a partner tossing and turning. It's also an easy way to fill up excess room in large bedrooms without looking out of place.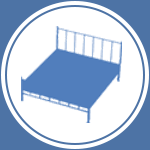 Superking iron beds

live it up in style!
The crème de la crème, the superking is the bed of choice for those who like to relax in style! This bed measures 6'0″ x 6'6″ and offers a supreme level of comfort and decadence. Superking iron beds conjure up images of royal palaces, presidential suites and luxurious boudoirs. But they're also incredibly practical.
‍
If your spouse tosses or turns while sleeping it can prevent you from getting the peaceful and restful night's sleep you need. Similarly, for those beset by snoring partners, this bed provides some extra distance. Plus, they're ideal for those family weekend mornings; big enough to accommodate you, your partner, and the kids and dog too!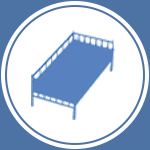 Iron day beds
Perfect for unexpected stays, iron day beds combine form and function beautifully. Masquerading as a sofa by day, they are large enough to provide a luxurious sleeping space for house guests without taking up the same amount of space in a room as a traditional double bed. They also make a stylish alternative to sofa beds in hotel rooms.

Our quality wrought iron frames provide the ideal décor that blends into your home without overpowering it, while giving your day bed a strong and sturdy construction. They're also available in a range of powder coated finishes so you can match your home's style perfectly.

What's your name?

You might have noticed that most of our beds at Wrought Iron & Brass Bed Co have their own unique names inspired by those special people in our lives. That's because each bed in our collection is handcrafted to be as individual as you are.
Those who love sumptuous wrought iron beds love our Charlotte iron bed for its sense of muted grandeur thanks to its high tailboard and cast iron knobs, while our Lily iron bed is great for those who want to add curvaceous elegance to their décor.
‍
The Jenny, Grace and Edward iron beds are just as well-crafted but with a more neutral, modern décor that makes them ideal for contemporary homes or guest bedrooms.
‍
Or if you're looking for a classic, timeless wrought iron bed, you can't go wrong with our signature staple the Sophie, or the Emma for those who prefer a chunkier mattress and high tailboard.