Hypnos Mattresses
Combine Natural & New Technology For A Better Sleep
Here at The Wrought Iron & Brass Bed Co. we've been handcrafted the perfect iron bed since 2003. Mastering the art of a great night sleep and ensuring you get the wrought iron bed of your dreams. So much so, we are happy to announce the addition of several glorious new pillow top mattresses and natural comfort mattresses to our ever-growing range of Hypnos mattresses. While we always strive to provide our customers with the absolute best in comfort, support and overall sleep well-being, these new additions are truly special.
What sets these beauties apart is the inclusion of the responsibly sourced and impeccable materials supplied through the exciting new partnership between Hypnos, Wools of New ZealandTM and the application of 37.5® Technology.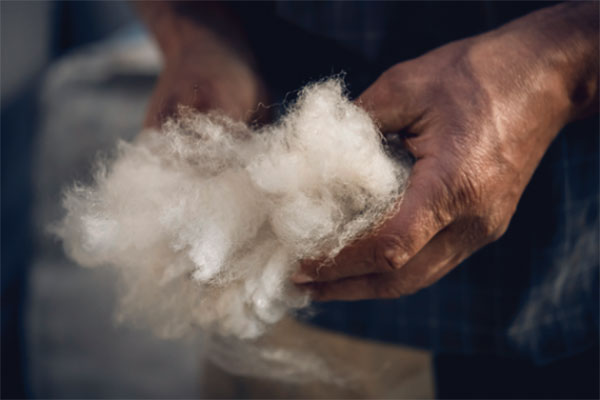 Wools of New Zealand
Wools of New ZealandTM provides the finest quality wool in the world, built on the foundation of high-quality materials, sustainable land management and animal welfare. The company only works with farming families who are committed to responsible farming practices to ensure the land and productivity can be passed onto future generations. Even if these mattresses weren't incredibly comfortable (and they are) their practices alone should be enough to help you sleep at night. The next stand-out feature available within our new additions is the application of 37.5® Technology: a temperature and humidity regulator that ensures the microclimate in your mattress stays perfect night in and night out.
37.5® Technology
So what is 37.5® Technology exactly? It is an innovative particle system that reacts on a micro level to your body's heat and perspiration fluctuations while you sleep, in order to create an optimal environment to maintain your body's unique comfort zone throughout your entire sleep. The system contains particles that attract your body's moisture and causes it to evaporate before becoming perspiration, in order to keep your body cool. They also capture your body's natural heat energy in order to radiate warmth when needed. It truly is remarkable.
Now without further ado, the new additions to The Wrought Iron & Brass Bed Co. Hypnos mattress range.

Featuring Wools of New Zealand
™
This Natural Comfort mattress offers full support from head to toe, providing a full nights sleeps and mornings feeling alert and well-rested. Filled with Wools of New Zealand™ Wool, Fleece and Silk and built with a ReActive™ spring system, this mattress boasts both comfort and support in all the right places. Perfect on slatted base, why not add an extra layer of comfort to your iron bed. We recommend pairing your Hypnos Aspen Natural Comfort, with our sprung bed base. Offering all over support, that extra touch of comfort and that perfect night sleep.
Available in the following sizes:
Superking Zip & Link
£2,555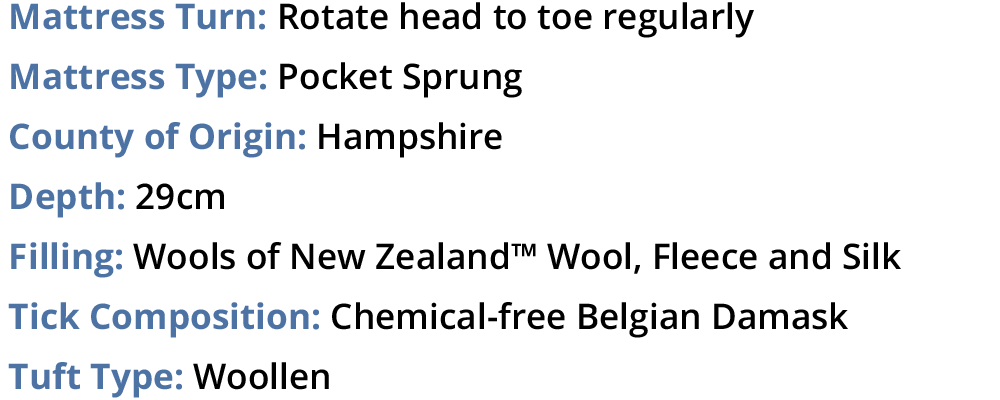 Featuring Wools of New Zealand
™
This model exemplifies Hypnos's commitment to high-quality mattresses, featuring a 3-zone UltraSens™ pocket sprung system for comfort and support. The added depth of this mattress offers focused support for your lower back, spine and hips, resulting in a deeper and more comfortable full night's sleep. The Willow model is filled with Wools of New ZealandTM Wool, Silk and Alpaca. We recommend pairing your Hypnos Willow Natural comfort, with our unsprung bed base. Although our wrought iron beds, come with a pine slatted base as standard. Upgrading to our unsprung base, shall ensure extra head to toe support, ensuring you have an undisturbed night sleep.
Available in the following sizes:
Superking Zip & Link
£3,575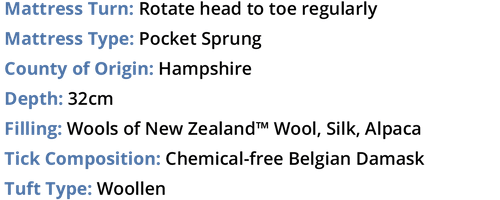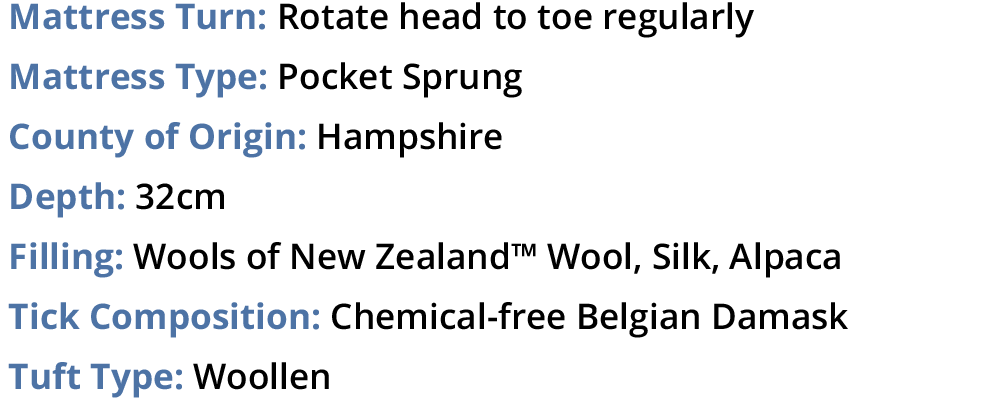 Featuring 37.5® Technology
Bring a touch of comfort and luxury, to your hand-crafted iron bed. With the Astral Pillow Top Mattress is something special. Not only is it crowned by an incredibly soft layer of added comfort, it features 37.5® Technology that reacts to your body's unique heat signature to regulate your bed's temperature and humidity night after night. This softness is expertly balanced by an adaptable spring support system within the mattress and topper, that shapes to your unique body shape, providing a sleep so good it's almost a shame you'll be unconscious the whole time.
Available in the following sizes:
Featuring 37.5® Technology
An out of this world hand crafted wrought iron bed, deserves a night sleep to match. This model takes comfortable sleeping to other-worldly levels with softness and support that will make you think you're sleeping on air. Equipped with 37.5® Technology that keeps said air regulated to your unique body signature, ensuring your sleep is as cool or as warm as you need while maintaining the perfect level of humidity. The adaptive pocket spring systems in both the mattress and the pillow-soft top layer provide support to the unique contours of your body, while the luxurious mattress filling of Wool, Natural Latex and Solotex™ create a state of softness that is absolute heaven. Looking for an extra layer of bounce and comfort? Why not upgraded your iron beds slatted base, to our comforting and sumptuous sprung base? Offering head to toe support and an extra layer of comfort. Sink into your new Hypnos Celestial mattress and experience a weightless night sleep.
Available in the following sizes: