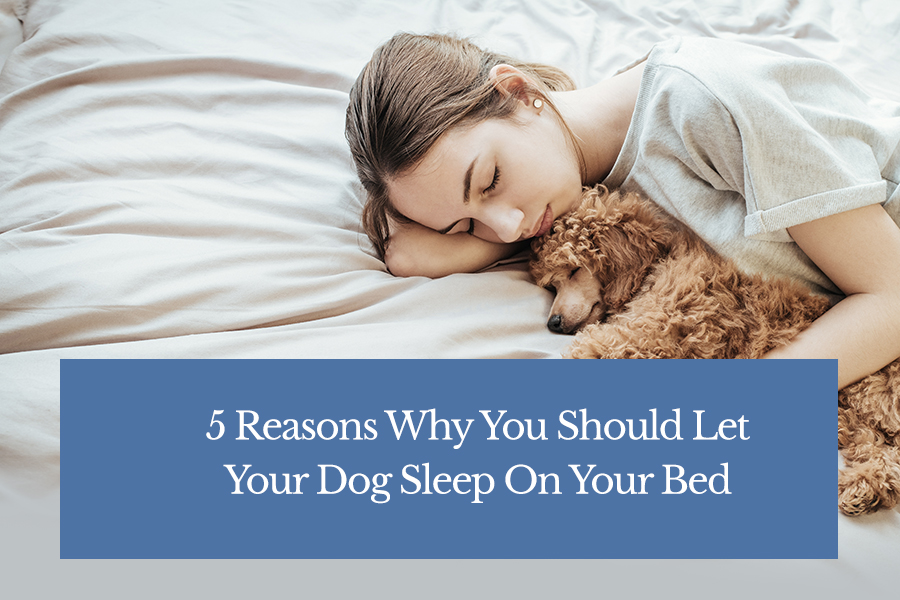 There are many benefits of letting your four legged friend sleep next to you in bed, but are you a fan of letting your dog sleep with you? A recent survey has revealed that nearly half of all British dog (and cat) lovers sleep with their pets.

We've put together 5 reasons why you should consider letting your pet pooch snuggle up to you during the night, then we'll let you decide where he/she sleeps tonight…
Relieve
Loneliness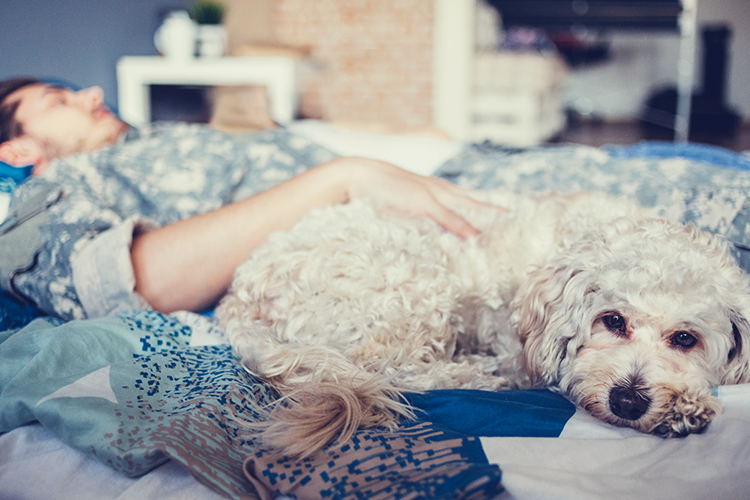 Letting your dog sleep in your bed can help relieve the feelings of loneliness. If you live alone in your own home having a dog around can help massively with these feelings and on an evening where most feel more vulnerable, letting your dog curl up next to you can not only improve your mood but your feeling of safety.
Improve
Comfort
We all know how cold it can get during winter and that's why we suggest letting your dog sleep on your bed during the colder nights to keep you warm. You could have all the pillows and blankets in the world but nothing beats the feeling of having your furry friend snuggled up next to you. Even on cooler nights it's always more comfortable having your dog next to you, helping you to sleep easy. Of course, nothing helps more than a comfortable pocketsprung mattress or luxurious wool duvet and wool pillows but a dog by your side will also help you drift off.
Building
Bonds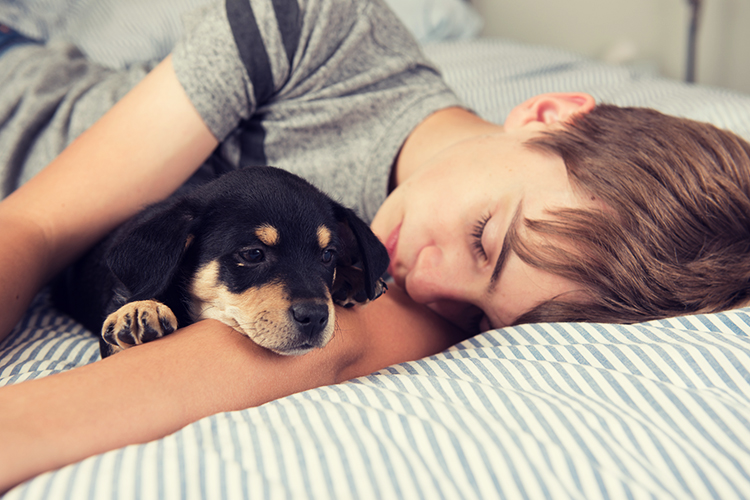 Creating a bond between owner and puppy can be very, very hard work. Try to place yourself in your new puppy's little paws, being transferred to a completely new place with no familiar surroundings, you'd be terrified. Letting them sleep on your bed can help them feel safe and secure in their new environment. If you leave it too late your pup could end up constantly barking or crying for some much needed attention.
Stress
Relief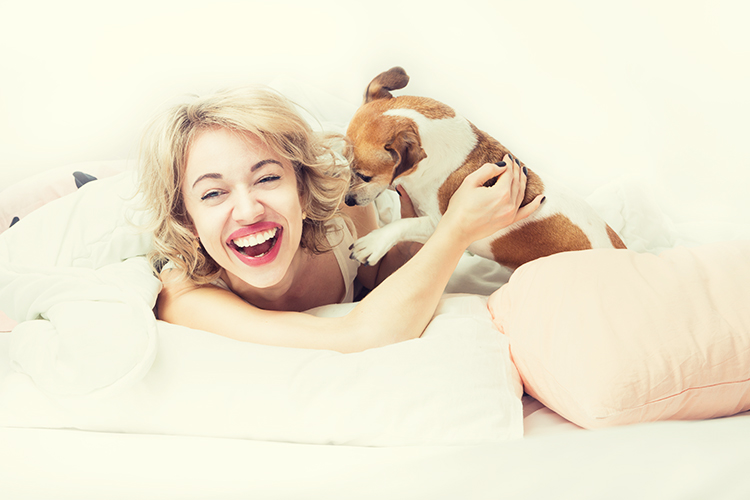 Those who suffer from mental issues such as anxiety and depression, as well as those who suffer with general stress can find sleeping peacefully a real challenge. Not only have dogs been proven to be a form of therapy, they're also known to reduce symptoms which could help you get those all important hours of sleep on a night. Don't let those negative thoughts cloud your mind any longer, let your dog sleep on your bed and watch your stress levels fade away.
Ease
Insomnia
If you're not a stranger to insomnia, you know how hard it is to get to sleep, and more importantly, stay asleep. Having your pet pooch in your bed might help ease the process. Simply having your dog around you while you sleep can help with relaxation and they've been proven to have effective calming influences, so what are you waiting for? Let your dog sleep next to you and enjoy the best night sleep you've ever had!
The decision is down to you, let your dog sleep on your bed with you or you can resist temptation and fight the urge. If you're already thinking about, chances are these benefits will help you make your decision. Let us know if you're a fan of letting your dog sleep on your bed! If you do, do you feel the benefits? If you're a resister, how do you manage to keep the bed yours and only yours? Let us know on our Facebook page or Tweet us @WroughtIronBed

Here at Wrought Iron & Brass Bed Co. we're big fans of letting our loveable pooch enjoy the comfort of our handmade beds. We believe nothing comes close to the feeling you get when you relax with your best canine friend by your side on top of one of our stylish iron beds, made by our family, for you. Don't just take our word for it, browse our beautiful beds selection and with our personal delivery service we can help you get set up and ready for a cosy night sleep with your four legged friend, so what are you waiting for?