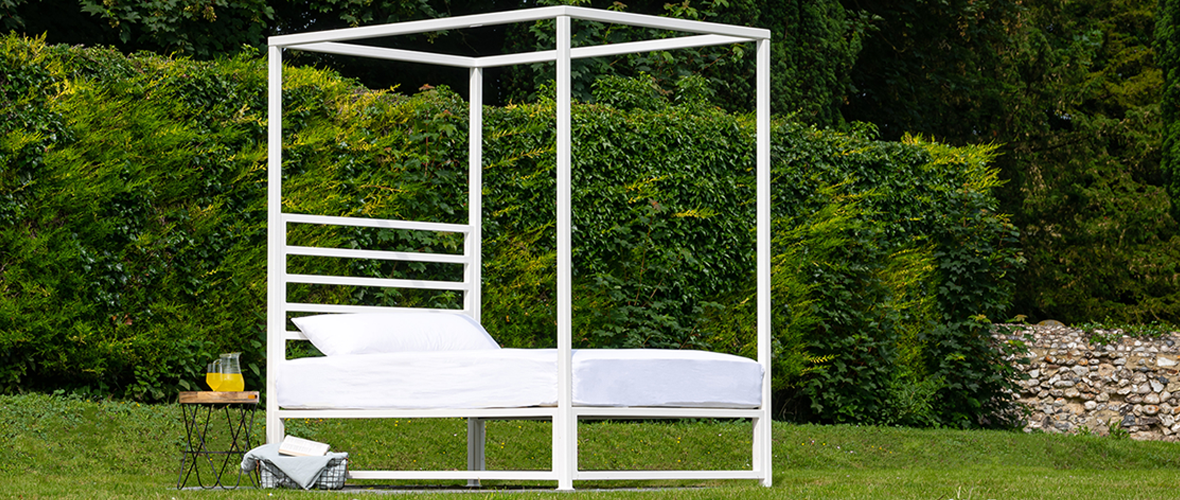 How to create an exotic escape in your garden with outdoor beds

With so many Brits set to spend summer at home, creating a beautiful garden escape has never been higher on the priority list.
‍
Plenty would love to take inspiration from glitzy holidays they've been on (or simply scrolled past on Instagram). Whilst putting a swimming pool in your garden might be a little far-fetched, there are ways you can turn your garden or outdoor space into an exotic, holiday-style escape.

Garden Escape Tip 1: Invest in a high-quality outdoor bed
Step aside, humble sun lounger: the cornerstone of any exotic garden escape is a high-quality outdoor bed.
‍
We have three different styles you can choose from, so let's start investigating which one is the right one for you.
Hepa Outdoor Bed
The Hepa looks a lot like your own cosy bed, ideal for anyone who sees themselves catching some outdoor zzzz's during the summer months. Design-wise, it's got a chunky frame and a strong, supportive base. We'll also provide you with an open coil, wipe clean, king size mattress that can be zipped right up for easy storage.
Arinna Outdoor Sofa Bed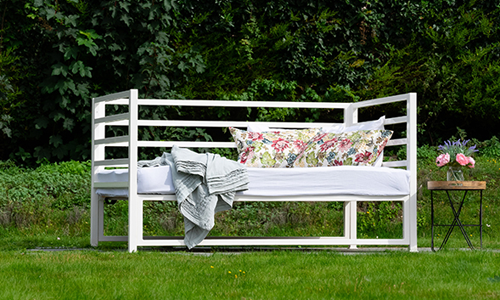 Is it a sofa? Is it a bed? This option is the perfect choice for anyone seeking the ultimate in day-bed versatility. If you like to entertain, this outdoor sofa bed can double as a sociable, cosy nook for long chats over a glass of crispy fresh Pinot Grigio. Like the Hepa, it also has a wipe-clean mattress that has been designed to stow away easily during the winter months.
Sunna Four Poster Outdoor Bed
The Sunna Four Poster Outdoor Bed brings a touch of romance to your exotic garden escape. We took our design cues from the gorgeous 1920s' Art Deco period, helping to create a glamorous garden aesthetic. With a cosy and comforting open coil mattress included, it's perfect for intimate nights under the stars.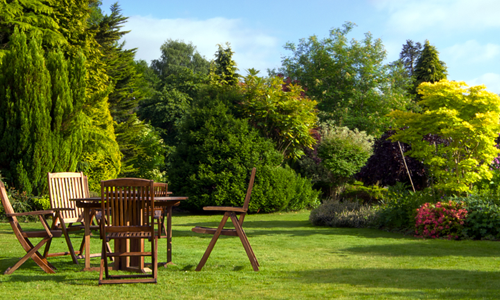 Garden Escape Tip 2: Find the quietest part of your garden…
Now you've chosen your bed, you'll need to think about the best place to position it. If you have a corner of the garden that gets lots of sunshine (but none of the neighbours' noise), that's the spot for you.
Garden Escape Tip 3: …and add your own soundscape
If stone-cold silence doesn't sound like your thing, think about what kind of water feature would look – and sound – good in your little escape. Remember: you'll spend a lot of your relaxation time with your eyes closed, so sound will be an important part of the ambience.